My favorite Fantasy writer. Author of the Dragon Nimbus series and Merlin's Descendents series.
If you like dragons or love anything to do with Merlin, check out her site.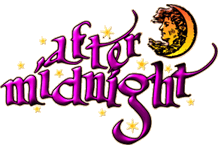 Great Fantasy Art Rubber Stamps.
Artists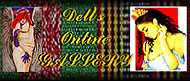 &nbsp Art by Socar Myles. My all time favorite Elfwood Artist.
The Endicott Studio of Mythic Arts &nbspfounded by Terri Windling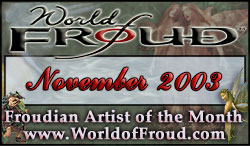 &nbsp Dedicated to the Art of Brian and Wendy Froud
Dale Chihuly &nbspBlown Glass and incredible color, eye candy.
John M. Soderberg &nbsp Southern Mountain Studio
Ravenwood Designs &nbsp The Artwork of Linda Matusich
Ellen Million Graphics &nbsp Fantasy Art, Stationary Products and Printing Services
Stanton F. Fink &nbspInteresting stuff here. LOL
Webpages of Friends and Other Strangeness:
Surfing Costa Rica My husband's surfing trips to Costa Rica.
Vissara's Temple Lord Fredrick Leighton desktop themes and 'bats!'
Some very cool, some very odd...
Jim and Tim, the Duct Tape Guys Everything you ever wanted to know about duct tape.
One of my hobbies is role-playing.
Better Than Life Live Action Roleplaying Game. Fantasy/medieval setting. Portland, Oregon
Crucible Chronicles Live Action Roleplaying Game based on White Wolf's Vampire: the Masquerade. Portland, Oregon
Realms II Home Page Realms II: live-action role playing game using a boffer system to simulate combat.
Orycon Home page for OryCon, Portland Oregon's premiere science fiction convention
Dragonfly Design Studio Historical, fantasy, and uniquely elegant accessories, costumes and gifts.